Annville Free Library Ukulele Lending Information
We are super excited to have three concert ukuleles that patrons may borrow. Ukes are a great instrument to learn how to play music on. They only have 4 strings, a narrow fret board, are very portable and most chords are easy to play.
We make getting started easy by including a carry bag, an electronic tuner, and the book 21 Songs in 6 Days: Learn Ukulele the Easy Way by Jenny Peters and Rebecca Bogart.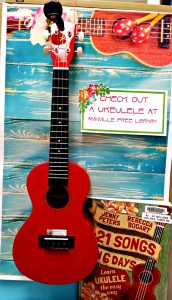 How To Tune A Ukulele With the Snark Tuner
Take It To The Next Level
Drop in to play with other folks who love playing ukes! Everyone is welcome no matter what level you are playing at. Uke players just wanna' have fun! Uke Jam Nights are on hiatus until in-person programs resume.
Check out the Mighty Uke Documentary trailer. This documentary is available at the library.